BelugaFile – Adobe Air App To Share Large Files Directly Btw Two Computers
Suppose lets say you want to send a large file to your friend, files as big as 4GB in size. What other alternatives you would have? Email the file? Never. Or Upload them to free file sharing site? Wow looks great but lengthy work. Or create some sort of VPN between two computers? Really? It's too tough to do that. Sometimes you require to transfer and exchange files with other users, for business or for even sharing. If the file sizes are small, the services available to the user are several and reliable to use. However, if the files are large, problems start. You do not have enough time to send a DVD and main mail providers do not permit the large attachments transfer. Apart from for P2P services (they work fine but too slow), particularly designed for large files transferring between distant computers, free services that let you to send large files are few.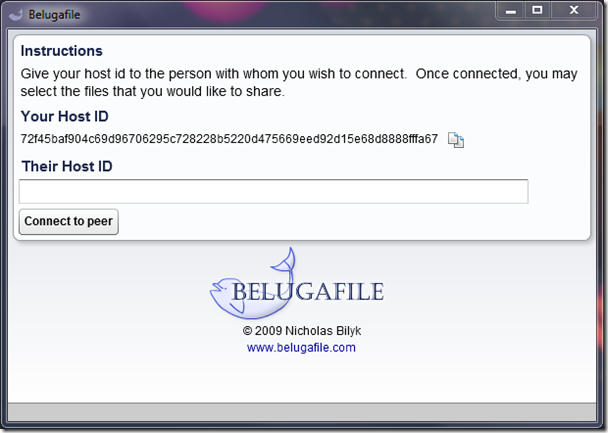 However, there is a totally free service available. This service name is BelugaFile. It uses the Adobe Air 2.0 software technology that permits two users to send and share large files up to a maximum of 6 GB. The operation is easy enough, bearing in mind however, that in order to take full advantage of the features offered by BelugaFile, you have to to enable UDP traffic. To use BelugaFile, both you and the other person with whom you desire to connect must install BelugaFile software. To connect, you will be provided a key to send to your peer. Once connected, choose the files you desire to share. This is a freeware and multiplatform service. BelugaFile not only lets you to send large files but does it very speedily. BelugaFile is a program, reliable and easy to use, through which to share large files with friends, relatives and colleagues becomes a genuine breeze. BelugaFile is totally free and open source service. As discussed there is only one condition for this application to run smoothly, which is that your network connection must allow UDP traffic. But this is quite normal and almost all network connections allow such traffic.
BelugaFile is an application which allows you to build a peer to peer communication channel using which you can easily transfer large files. In order to initiate the transfer, one user should give the Host ID to other, and the other user as soon as provides the Host ID of first user in the 'Their Host ID' field and presses on 'Connect to peer' and the connection is established.
What is so great about Beluga file –?
It is a cross-platform (Win, Linux, and Mac) tool and takes less than 30Mb of system memory when running. Developers have tested it on Windows 7 Ultimate 64-bit. For more software like this you can also find out about HFS and Fileai, but remember that they are not as reliable as BelugaFile. When you will test it, you certainly feel the difference.
Download: http://www.belugafile.com/